Is climate change responsible for record cold in U.S.?
Amanpour
By Mick Krever, CNN
Are the record-low temperatures in the United States and Canada – not to mention the extreme flooding in the UK and a record heat wave in Australia – the result of climate change?
Maybe not, but that says nothing about the validity of climate change, Climatologist Richard Alley told CNN's Hala Gorani, sitting in for Christiane Amanpour, on Tuesday.
"Maybe a little bit of climate change, but this is mostly weather – big, exciting weather," he said. "We've only warmed it one degree, and this is a 20-degree cold snap. So mostly, this is weather."
In other words, higher sea levels from greenhouse gases may have contributed to recent flooding in the UK, but the temperatures are mostly the result of a fluke event, the shifting south of frigid polar winds, known as the polar vortex.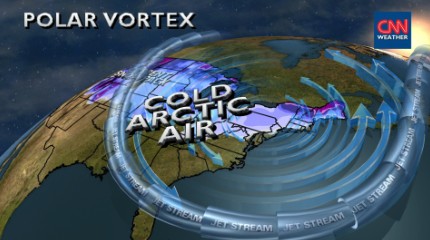 But it's not nearly as simple as just saying…
View original post 389 more words